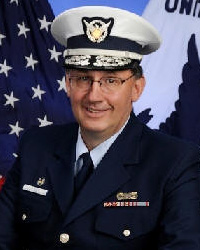 COMO Mark Simoni has been an Auxiliarist for over 23 years, first joining Flotilla 24-05 in Saginaw, Michigan in 1991. He recalls he joined the Auxiliary after receiving a tow after becoming disabled on Lake Huron. He was most impressed with the close quarters boat handling and side tow skills of the Auxiliary crew that assisted him. He began as an avid boater and quickly moved up through boat crew and coxswain qualifications, patrolling primarily on Saginaw Bay. Wanting to improve the boating program, and aid his fellow members, Mark not only became a Qualification Examiner (QE) but joined the National Staff, becoming Division Chief for Surface Operations.
Also working in a variety of elected positions, Mark served as District Commodore for the Ninth Central Region beginning in 2006. His fellow commodores elected him to the position of Deputy National Commodore – Operations in 2011-2012, and then Vice National Commodore for the 2013-2014 term. In August, 2014, he was chosen as the 32nd National Commodore of the Auxiliary.
When not working on Auxiliary business, Mark is president of Simoni Systems, a firm he founded in 1994. In that role, he provides audio/video services to a variety of commercial, educational and sports firms, including the Detroit Lions, where Mark's company provides all their game day sound reinforcement and coach communication needs. Mark and his wife Cheryl live in  Saint Charles, MI.