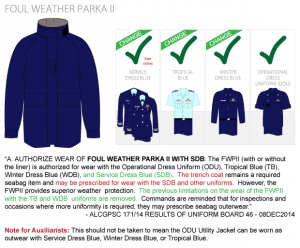 Each of us takes pride in wearing the Auxiliary uniform. The Coast Guard conducts an ongoing process to evaluate uniform policy and recommend changes to the Commandant. The Commandant approved a number of recommendations of the Uniform Board and these changes were released to the Auxiliary in an ALAUX on 22 Dec 2014. Two of these changes have the most impact on Auxiliarists.
First, the Foul Weather Parka II (FWP) may now be worn with Service Dress Blue (SDB) and the prior limitations on wear with Winter Dress Blue WDB) and Tropical Blue (TB) are removed. There may be formal situations in which the Foul Weather Parka is not appropriate with Service Dress Blue. Please be sensitive to the situation. This change means that Auxiliarists can now acquire a single piece of outerwear that can be worn with all our typical uniforms – simplifying uniform compliance. Also, please note that this does not extend to wearing the ODU Utility Jacket or the FWP fleece liner as a stand-alone outerwear item with SDB, WDB, or Tropical Blue. The ODU Utility Jacket may be worn as outerwear with the ODU or zipped into the Foul Weather Parka with SDB, WDB, or Tropical Blue.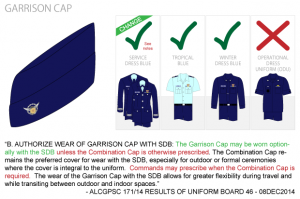 Second, the Garrison Cap is now authorized for wear with the Service Dress Blue uniform. The Combination Cover is still preferred and may be required in formal situations like a change of command. As Auxiliarists typically wear Service Dress Blue in formal situations, you might want to acquire a Combination Cover when you procure Service Dress Blue uniforms.
The full text of the ALAUX on Uniform Board results can be found here: http://www.uscg.mil/auxiliary/administration/mailinglist.asp.
 Submitted by COMO Daren Lewis